Math Kits a Big Help for Honduran Teachers
Teachers asked for Math Supports and the FoHC Education Committee Jumped into Action!
Our brigades have been visiting remote schools in Honduras for years. One thing that the teachers have been asking for is ideas and strategies for teaching math. Our education committee took that request and ran with it!
The timing was perfect because in September 2016, the Ontario Ministry of Education rolled out a renewed math strategy to help students gain math knowledge and skills they will need for the future.
The kits are shared with students and teachers when our brigades travel to Honduras. Each brigade typically visits remote schools and brings supplies and resources to the teachers.
Each kit contains eight or more activities designed to develop number sense and problem solving, through numeration, graphing, counting, measuring, place value and geometry. The colourful and engaging activities are designed to be reusable and adaptable for the many ages in the one room schools.
The committee is anxiously awaiting feedback on the success of the kits and would like to continue this idea next year in the area of literacy.
Thank you to our donors for making this initiative possible.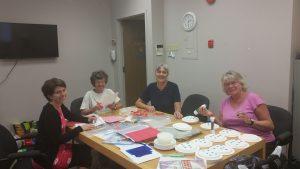 Committee members Libby, Sue, Jane and Nancy busy creating math games and activities, thanks to donors like you who support Education and Scholarship initiatives. Missing: Jane, Pat and Cathy.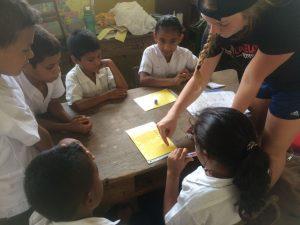 St. Peter's Students shared math kits with students on their recent trip to Honduras